Reggaeton superstar Karol G was Vevo's most-viewed artist for the second consecutive year in 2022, with 2.76 billion views.
The video for Karol G's single PROVENZA was also the music video platform's most viewed video worldwide, with 547 million views in 20221.
Vevo notes that "Latin music continues to be a global sensation, with many of the top ten global music videos being classified in this genre".
Six out of the Top 10 most-viewed videos worldwide on the Vevo platform in 2022 are Spanish language tracks.
Globally, We Don't Talk About Bruno (From Encanto) was the second most-viewed video on Vevo in 2022 with 503.4 million views, followed by Shakira and Rauw Alejandro's Te Felicito, with 415.9 million views.
Harry Styles' As It Was is at No.4 with 375.5 million views, and Karol G and Maldy's GATÚBELA closing out in fifth place, with 202.3 million views.
---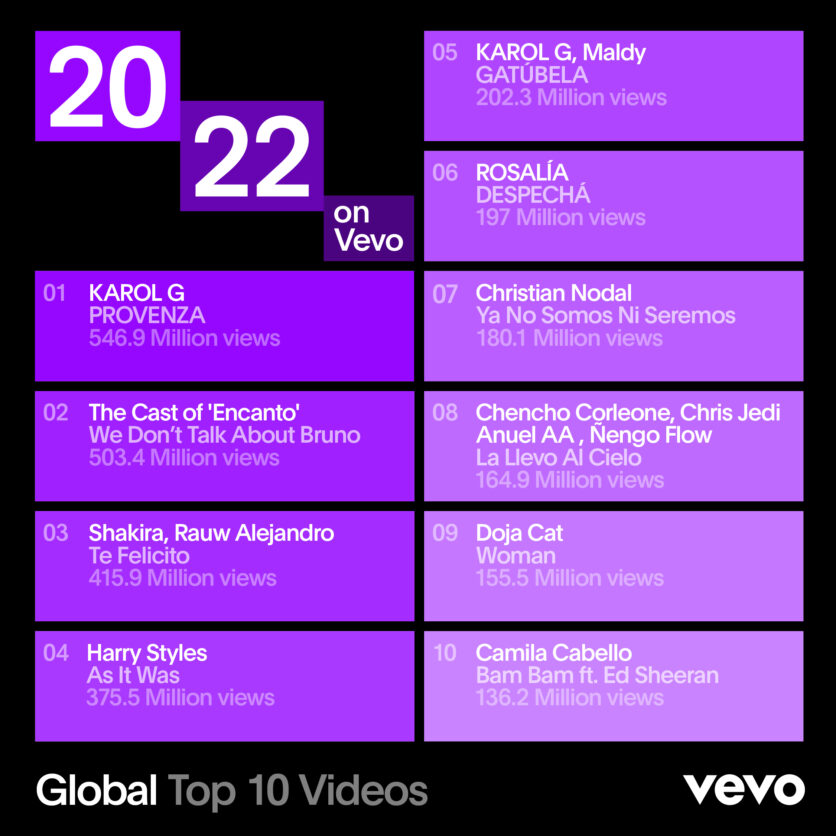 ---
Meanwhile, Shakira was the second most-viewed artist on Vevo, globally, with 2.49 billion views, followed by The Weeknd at No. 3 with 2.24 billion.
Taylor Swift enters the chart at No.4 with 2.09 billion views, while Eminem comes in at No. 5 with 1.75 billion views worldwide in 2022.
Lil Baby was the most-viewed artist in the US in 2022 with nearly 674.7 million views. Future follows with 489.5 million views for the No.2 spot, and Chris Brown lands at No. 3 with 424.3 million views.
Rounding out the list is Taylor Swift at No. 4 with 414.7 million views and Drake at No. 5 with 408.5 million views in the US in 2022.
Coming in first place on Vevo's Top Viewed Artists Chart in the UK is Eminem with nearly 76 million views. Following Eminem is Taylor Swift with nearly 64 million views, followed by The Weeknd with 58 million, Adele with 55 million and Rihanna with 50 million.
---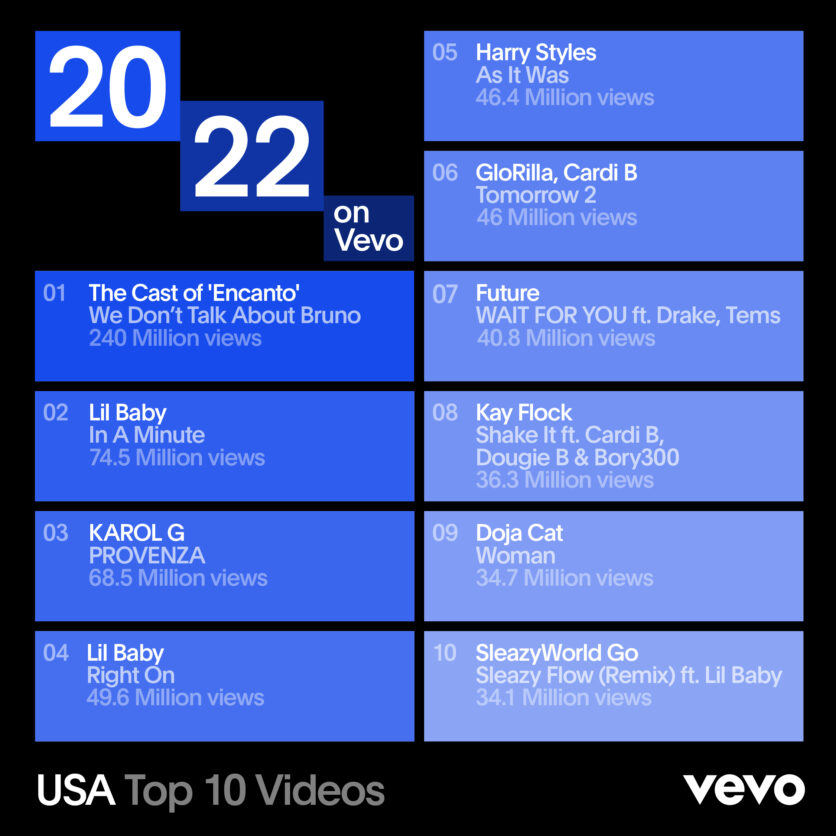 ---
Vevo's highlights in its annual recap the impact that film and  TV events had on music videos in 2022, such as the premiere of HBO's Euphoria Season 2, which resulted in lead actress Zendaya seeing "almost 5x the average views for her 2013 track replay".
New cast member Dominic Fike, meanwhile, saw a 247% lift in views of his catalog, according to Vevo, while lead composer Labrinth saw a 241% lift for All For Us and almost triple the views for Still Don't Know My Name.
Meanwhile, the debut of Top Gun Maverick drew in a 370% lift in views for Kenny Loggins' Danger Zone, on Vevo. During the opening weekend of Elvis, videos for If I Can Dream, Can't Help Falling In Love, and Jailhouse Rock saw 200% to 400% lift in views on the platform.
Additionally, Vevo says that Nirvana's 1991 track Something in the Way "exploded in views 33x" after featuring in the Robert Pattinson-led The Batman film.
---
Speaking to MBW, JP Evangelista, Senior Vice President, Content, programming and marketing at Vevo, noted that the platform has "seen the continuation of Latin artists expanding their reach to truly global audiences".
He added: "It's been a trend that's been building for a couple of years now, with Karol G leading that charge as Vevo's most viewed global artist for two years in a row now, as well as taking the most viewed global music video slot with PROVENZA.
"Hip hop artists have also been dominating for the past few years, with Lil Baby taking the most-viewed US artist for the third consecutive year, and taking two of the most viewed US videos slots with In A Minute and Right On."
Evangelista added that another trend witnessed by Vevo over the past couple of years has been where people are consuming its content.
"We're now seeing music videos come full circle and being enjoyed on the biggest screen in the home thanks to the adoption of smart TVs (aka connected TVs)," he said. "Currently, music video viewership is shifting from desktop to the TV screen, and last quarter, we saw over 4.5 billion views in the US on TV alone."
Today's news follows Vevo's expansion in the TV space.  Last month, US subscription TV network Hulu added six new channels to its Live TV service from Vevo.
In a statement provided to MBW at the time, Vevo's President of Sales and Distribution Kevin McGurn said that its new partnership with Hulu "continues to put music videos back in the living room".
He added: "Our TV network expansion is key to help us continue on our mission of growing the promotional and commercial value of the music video."
Here, Vevo's JP Evangelista tells us more about Vevo's end-of-year stats, its push into the TV space, and ita ambitions for the next 12 months.
---
What were some of the highlights from this year's stats?
I think one of the biggest things that stood out to us this year were how pop culture moments, particularly nostalgic ones, drive viewing behaviors. For example, take The Super Bowl: Eminem, Mary J. Blige, Snoop Dogg, Dr. Dre…they were the blueprint for modern hip hop artists that we see today, and the halftime show gave an entire new generation the opportunity to recognize and appreciate what they did for culture. While it's typical to see a lift with big cultural events, The Super Bowl's impact was larger than usual – in fact, "Still Dre" saw a whopping nine times more views that week, and was pushed into our coveted 1 Billion views club thanks to that spike.
Another great example came with the release of Baz Luhrman's Elvis back in June: Jailhouse Rock, a song that shook both the music and film industry when it was released in 1958, saw five times its normal numbers on opening weekend, and Can't Help Falling In Love With You saw a 400% lift. That's multiple new generations learning to appreciate his impact and having it shape their lives and listening habits. 
Nostalgia has really had an incredible impact on viewing trends, and it's something that we don't see letting up any time soon. 
---
What are your ambitions for Vevo's reach over the coming 12 months?
Over the next year, we will continue being focused on TV. This means we will continue to grow our distribution and audience, as well as maximize the monetization opportunities on TV. Since Vevo has an ad-based model, we'll continue to develop more innovative advertising products/packages for brands, which ultimately deliver more revenue for artists and their teams. 
On the content side, you'll see more long form music video content for the TV screen, with many of those opportunities stemming from our original content franchises. We've already seen longform pieces from the likes of Machine Gun Kelly, Demi Lovato, Ariana Grande and more, and we're looking forward to expanding that strategy to give audiences a new and exciting viewing experience. 
Finally, we'll continue to work with artists of all career stages and genres in shooting or creating original pieces, such as our various live performance series, as well as interviews and behind the scenes content. 
---
How is the role and importance of music videos/video content evolving in the overall mix for artist campaigns?
Music videos have always been an essential part of an artist's promotional cycle, and in today's attention economy, they're more important than ever. Music and culture are intrinsically linked, with people looking to music videos for trends, news and connection with their favorite artists. 2023 has seen more people consuming content from the comfort of their homes on televisions, and with that, watching for an increasing amount of time – nearly 50 minutes per session, and nearly 75% of those viewing sessions are now viewed with other people. This all stems from a hunger for community and connection after a lonely couple of years, and music videos are the key to reaching these audiences.
The artist to fan connection is more important than it's ever been. But because consumers are bombarded with choice and content, it's just that much harder. On top of that, artists are often subject to ever-changing algorithms on the major platforms where their music lives. For that reason, artists have to diversify the music video content they release and create various versions, consistently putting out a steady stream of content – from official videos, to lyric videos, live performances and more.
---
Could you outline Vevo's TV partnerships strategy?
Vevo has a ubiquitous distribution strategy, so that our music videos can be easily accessible however, whenever, and wherever music fans want to enjoy them. Because we are seeing this continued trend of consumers streaming content on TV, we are particularly focused on gaining more TV partners, especially in the FAST (free ad supported streaming TV) space, such as The Roku Channel or Samsung TV Plus. 
With FAST, we can easily launch and program 24/7 music video channels, similarly to what MTV did in the '80s. Unlike the major platform, we're not beholden to an algorithm and have an expert programming team that curate each Vevo channel according to a specific genre (such as Vevo Country or Vevo Hip-Hop) or decade (Vevo '80s or Vevo '90s). Right now, Vevo has nearly 150 FAST channels live worldwide, all of which we launched in just the past few years. 
We also have a dedicated partnerships management team that manages our relationships with each platform where Vevo exists. They play a critical role in discovery and helping drive tune-in to Vevo channels. For example, when the "Weird: The Al Yankovic Story" biopic premiered last month, our partnerships management team worked with Roku to run a special Vevo-powered Weird Al takeover on their platform.  
---
Tell us about the significance for Vevo of striking a partnership with Hulu specifically.
We're really excited to provide the first and only music-dedicated channels on Hulu Live – currently one of the most popular streaming services in the U.S. Hulu is such a big media brand, so this partnership is a culmination of all the work we are doing in growing our TV network. Moreover, this significantly increases Vevo's audience reach by over 25%. 
---
Do you have other partnerships that you're planning to announce in the near future?
Yes, we have a number of new distribution partnerships in the pipeline, as well as more content deals…Stay tuned!
 Music Business Worldwide
#Karol #Vevos #mostviewed #artist #globally #consecutive #year #2.76bn #views